"The heart and soul of company is creativity and innovation."

Robert Iger, CEO of Walt Disney
---
Robert Iger, The Walt Disney's Company current CEO, joined the firm in 1996 after Disney acquired ABC Studios.
He remained as president and CEO of ABC Studios after the acquisition until 1999, when he made president of Walt Disney International. Shortly after, Iger was promoted to Disney's President and Chief Operating Officer.
After exceeding executives' expectations and displaying strong and appraised potential, Robert Iger was then announced as Disney's CEO in 2005. Since his tenure as CEO of The Walt Disney Company, Iger has transformed the company and propelled it to a whole new level.
Robert Iger's Beginnings as Disney's CEO
Iger became The Walt Disney Company's chief executive officer in 2005 and, months later, began orchestrating powerful new strategic initiatives for Disney.
A few of his strategic moves in 2006, just a few months after his promotion to CEO, included the acquisition of Pixar Animation Studios for $7.4 billion, doubling the fleet for the Disney Cruise Lines, and planning and leading the acquisition of Marvel in 2009 for $4.24 billion. Under Iger's guidance, Disney then acquired Lucasfilm and its right to Star Wars in 2012 for $4 billion and led the recent development and launch of Disney's streaming service, Disney+, which has surpassed its goal for the number of subscribers by 2024 in just 4 months.
There's no doubt why Robert Iger is considered the company's most influential CEO and one of the world's greatest visionaries. In the below chart, provided by The Wall Street Journal, we can see how Disney's stock performance has skyrocketed since Robert Iger assumed the firm's leadership.
Robert Iger's Failed Retirement Plans
Yet, despite the massive success Robert Iger has accomplished for and at Disney, it seems that his passion, commitment, and love for the company has no expiration date. Even though Iger has announced that it has plans to retire by the end of 2021, the truth is, no one really believes him. He has already delayed his plans to retire four times. He first announced he would retire by 2014… we are in 2020 and he is still leading Disney, accomplishing massive success along the way.
Even though there is not a single definite reason why Robert Iger has delayed his retirement plans multiple times, we can infer that there are indeed strong and powerful reasons behind his rationale.
No One at Disney wants Iger to retire as CEO
For starters, Iger hasn't made the choice to postpone his retirement plans alone. His decision to postpone his retirement plans serve as proof that people value strong, charismatic, and moral leadership. No one wants Iger to leave Disney – customers, employees, investors, analysts, critics – they are all vouching for Iger continuing his tenure as CEO as long as possible.
It's not just the financial accomplishments that has enabled Iger to entice a cult-like following, but also his vision and inspiring leadership style. Iger seems incapable of retiring.
His never-ending love for Disney
His strong commitment and thirst to make Disney the best-it-can-be has fueled his motivation to continue leading the entertainment giant. Proof is the fact that even though Iger announced (again) that he will be retiring by the end of 2021, he will just do so as Disney's chief executive. He will continue to serve Disney as part of the board, which will allow him to focus on the creative side of Disney's business, which he calls Disney's "biggest priority." As one of history's most successful and inspiring CEOs, Iger has found meaning and purpose at his job at Disney, struggling to leave behind something so dear to his heart.
Iger's delaying his retirement also demonstrates that his passion for the industry and Disney as a whole makes him feel part of the company itself. Leaving Disney, for Robert Iger, would mean leaving a huge part of himself behind. The fact that not only Iger himself doesn't want to leave Disney behind, but countless other of employees, investors, and analysts as well, makes his retirement plans look more like an illusion than a reality.
For instance, Iger has affirmed that he was powerfully passionate to design, develop, and launch Disney+, Disney's streaming service, and see how its strong market potential fits his expectations.
As a fan of The Walt Disney Company, I cannot but hope Robert Iger doesn't retire anytime soon.
Who Should Replace Robert Iger?
Replacing Robert Iger, one of the century's most inspiring, successful, and emblematic CEOs, poses a challenging decision. The newly appointed CEO will not only have big shoes to fill, but will also have to deal with the current COVID-19 pandemic that is critically harming Disney's business model.
The pandemic has forced Disney to close its theme parks and resorts across the globe, postpone the launch of movies they were expected to release this summer, and has forced the firm to halt its studio entertainment division – severely harming the entertainment giant's revenue streams.
Therefore, Disney should appoint a CEO not only with the ability to successfully lead and navigate through the pandemic, but also resourceful and knowledgeable enough for Disney not to lose its essence. Therefore, I believe that Disney should not look at Silicon Valley, a global brand marketing company, nor at a Hollywood executive to fill Rob Iger's shoes, but rather seek an internal candidate to fill Iger's role as CEO.
This might seem like the easiest, simplest, and most cost-effective answer; however, it has profound reasoning behind it. For starters, no one knows how long or how terrible of an impact the pandemic will have on Disney. The situation requires leadership that's already familiar with Disney's business model, diverse business divisions, and knows how the C-Suite operates. Hiring an external candidate will force Disney's newly appointed CEO to enter a learning period that will require time, adaptation, and responsiveness – something that might result too costly for the company given the critical situation it's undergoing in its worldwide operations.
At the same time, appointing an internal candidate as Disney's CEO will ensure positive synergy between the internal candidate and Disney's board of directors. Robert Iger becoming leader of the firm's board of directors would facilitate the firm's leadership transition, as Iger and the internal candidate would already share a positive track-record of successfully working alongside each other to pursue company objectives.
Moreover, an internal candidate will make for a smoother leadership transition for Disney. Hiring an external CEO for the entertainment giant could lead to decreased employee morale, which will lead to higher employee turnover rates – something that, given the pandemic's critical impact on Disney, the firm cannot afford. Hiring an internal candidate, on the other hand, will boost employee morale – sending the message that Disney takes great care in developing, retaining, and promoting internal talents.
Internal leadership succession will empower Disney to successfully navigate and overcome the reopening of its business units.
Why Robert Iger Chose an Internal Candidate as His Successor
When it comes to leadership transitions, companies and leaders should both understand that it's a highly personal decision. The decision becomes even more personal when it's Robert Iger who we are talking about – one of Disney's most successful, inspiring, and accomplished CEOs who seems unable to give up the firm's steering wheel.
Iger's reputation and massively successful track-record has earned him the right to determine who will succeed him. Moreover, Iger has consistently shown that his heart is in the right place and that he has Disney's best interest at heart. Therefore, there is no one more capable and able to make the right leadership succession decision for Disney than Robert Iger himself.
Robert Iger, along with Disney executives, have decided to announce Bob Chapek, a Disney executive with more than 27-years in the company – who is currently serving as chairman of both Disney's direct-to-consumer products as well as its theme parks and resort business divisions – as Disney's CEO once Iger retires in 2021.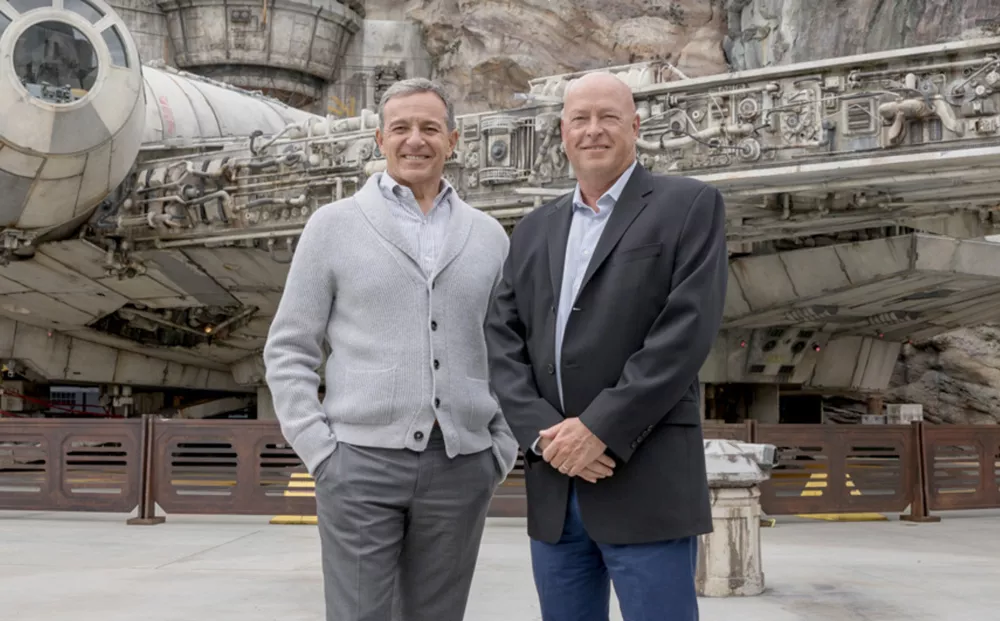 Why Bob Chapek is the Right Man for the Job
Bob Chapek differs from Robert Iger in a variety of ways. For instance, unlike Iger, Chapek has limited creative experience. At the same time, Chapek is considered less charismatic and stiffer in comparison with Iger, who's track-record and success at Disney has practically turned him into a corporate celebrity.
Yet, Robert Iger has stated that he strongly believes and supports Chapek as Disney's newly appointed CEO. Iger has told analysts that he has "absolute confidence in his abilities, as does the board" and that he intends "to work very closely with Bob. My goal when I leave here is that he will be just as steeped in the creative part of the business as I am today."
There are many reasons why Iger believes Chapek is the right person for the job as his successor at Disney. For starters, Chapek is highly committed and passionate about Disney's emotional entertainment style. Both executives share a powerful devotion towards capitalizing upon Disney's creative excellence, expansion into international markets, technological innovation, and Disney's recently launched streaming service, Disney+.
Furthermore, as chairman of Disney's theme parks and direct-to-consumer products business divisions, Chapek has proven exceptional leadership qualities – something the current situation demands– as Chapek has led and managed more than 170,000 Disney employees across the globe. As Disney's chairman, Chapek has shined: he contributed toward Disney's opening of its park in Shanghai, helped orchestrate Disney's implementation of the "Star Wars" theme into its resorts in the US, and has enhanced the park's profitability through a variety of marginal improvements.
Chapek has been an integral part of Disney's culture and success throughout his 27 years working in the firm and has proven his ability and capacity to expand Disney's path towards success.